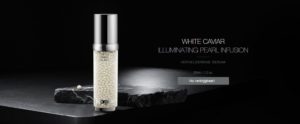 ---
White Caviar Illuminating Pearl Infusion
Onthul in vier weken een jeugdige en stralende huid.
De exclusieve formule van dit serum richt zich op ouderdomsvlekjes alsmede roodheid en een doffe uitstraling. De drie chromatische lichtbarrières voor een stralende teint.
De actieve ingrediënten van White Caviar Illuminating Pearl Infusion (ingekapseld in parelmoerachtige, witte kaviaarparels) versmelten met een serum en transformeren tot een unieke formule. Donkere vlekjes lijken te verdwijnen, roodheid neemt af en een grauwe uitstraling door omgevingsfactoren wordt verminderd.
De vloeibare gel rondom de parels bevat  d'glucosyl gallic zuur (DGA), een ingrediënt dat pigmentatie en roodheid remt. De ingekapselde parels bezitten een mix van ingrediënten waaronder het gouden kaviaar-extract om de stevigheid en de elasticiteit te verhogen, een stabiele, olieoplosbare vorm van vitamine C om het uiterlijk van donkere vlekken te verminderen en een anti-vervuilingsmatrix om te beschermen tegen de effecten van atmosferische verontreinigende stoffen.
Kortom; een serum dat zich richt op de dunheid en het verhelderen van de huid, met een snel zichtbaar resultaat!
---
La Prairie White Caviar Illuminating Pearl Infusion is nu verkrijgbaar bij the art of skincare. 
---

La Prairie producten en La Prairie behandelingen bij the art of skincare.
---
Wilt u een afspraak maken?
Bel 035 6024620

Of stel uw vraag per e-mail
---
Webshop the art of skincare binnenkort open!