---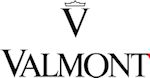 Al vanaf het begin voorkomt Valmont de zichtbare tekenen van huidveroudering dankzij celtherapie en in het jaar 1985 worden de medische crèmes cosmetisch geschikt gemaakt.
Celtherapie is de meest intensieve vorm van huidverzorging en pakt huidveroudering op doeltreffende wijze aan. Juist door deze celtherapie onderscheidt Valmont zich als exclusief product in de markt.
De formules van de Valmont productlijnen zijn verrijkt met Gletsjerwater, dat door de natuur wordt bewaakt. Dankzij zijn ideale mineralengehalte, bevordert het de uitwisseling van weefsels, versterkt het de celstofwisseling en stimuleert het het natuurlijke afweersysteem.
Daarnaast maakt Valmont gebruik van:
3 voudig DNA en RNA
Natrium: vasthouden van vocht
Calcium: versterkt membraam van de cel
Magnesium: energie verlengt de werking van DNA.

Deze staan bekend om antiverouderende eigenschappen zoals hydrateren, natuurlijke UV-filter, natuurlijke  antioxydant, stimulerend op celdeling. RNA versterkt en verlengt de werking van DNA.
---
 Maak kennis met Valmont!
---
Producten van Valmont zijn te koop bij the art of skincare
Valmont Rituelen en tarieven, klik hier…
---
Wilt u een afspraak maken, of een product bestellen?
Bel 035 6024620

of mail
---