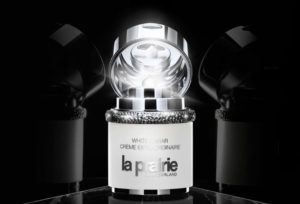 De uitzonderlijke moleculen van licht
Geïnspireerd door de kracht van het licht, ontwikkelde La Prairie White Caviar Crème Extraordinaire met Lumidose, het meest krachtige verlichtende molecuul.
White Caviar Crème Extraordinaire draagt ​​bij aan een duidelijke vermindering van de zichtbaarheid en intensiteit van ouderdomsvlekken, waardoor hun uiterlijk lichter wordt. De Crème verbetert het uiterlijk van een doffe, verkleurde huid, het verfijnt de textuur en laat de huid steviger aanvoelen.
De huid voelt gladder aan, de elasticiteit en het vochtgehalte zijn verbeterd!
---
---
White Caviar Crème Extraordinaire is te koop bij the art of skincare
The art of skincare is 25 jaar specialist La Prairie behandelingen
La Prairie Facials en tarieven, klik hier…
---
Wilt u een afspraak maken, of een product bestellen?
Bel 035 6024620

of mail