Dermalogica lanceert met trots: Pro Power Peel
dé herdefiniëring van de professionele peeling-ervaring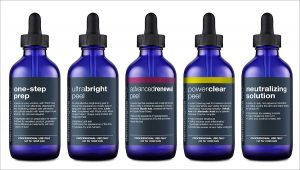 Deze collectie bestaat uit een complete serie van producten
die krachtig inzetbaar zijn en de mogelijkheid bieden verschillende huidbezorgdheden
als huidveroudering, onzuiverheden, acne, pigmentatie en dehydratatie
tegelijkertijd aan te pakken.
Met als resultaat een egaler en frisser huidbeeld!
---
Pro Power Peel Collectie bestaat uit de volgende producten:
One-Step Prep: een leave-on prep-oplossing die de penetratie van Pro Power Peel-oplossingen optimaliseert.
UltraBright Peel: een uiterst effectief product met 30% melkzuur, dat zich richt op het ontstaan van vroege tekenen van veroudering.
AdvancedRenewal Peel: een krachtige 30% glycolzuurpeeling die fijne lijntjes en rimpels minimaliseert.
PowerClear Peel: een dynamisch multi-zuurcomplex met 2% salicylzuur met 10% amandelzuur, 15% appelzuur en een gepatenteerd Terpineol-Thymol-complex om vlekken aan te pakken en het ontstaan van post-inflammatoire hyperpigmentatie tegen te gaan.
AGEreversal peel: een professionele AGE-reversing peel met 15% TCA plus, een krachtig peptidecomplex, om het uiterlijk van geavanceerde tekenen van veroudering te minimaliseren.
Neutraliserende oplossing: een verzachtende neutralisator die helpt de natuurlijke pH van de huid te normaliseren
---
De Pro power Peel Collectie is te koop bij the art of skincare en via de webshop
The art of skincare is Dermalogica Expert
Dermalogica Treatments en tarieven, klik hier…
---
Wilt u een afspraak maken, of een product bestellen?
Bel 035 6024620

of mail