BioSurface™Peel
Bij een peeling van de huid worden oude of beschadigde huidcellen verwijderd.
BioSurface™Peel is een krachtig systeem ter bevordering van huidvernieuwing.
Deze peeling is ontwikkeld door huidexperts van Dermalogica en het International Dermal Institute.
BioSurface™Peel helpt bij het verminderen en voorkomen van pigmentproblemen en onzuiverheden en draagt bij aan het verminderen van tekenen van (voortijdige) huidveroudering. Bovendien werkt deze peeling verzachtend en verhelderend op de huid.
---
Belangrijkste voordelen van deze peeling:
Bestrijdt tekenen van huidveroudering zoals rimpels en fijne lijntjes, vermindert pigmentatie en verheldert de huid, behandelt onzuiverheden en vermindert littekens van acne, stimuleert de collageenproductie.
Hoe werkt het?
De peeling bestaat uit 4 stappen: de voorbereiding, het verzachten/verweken van de huid, de daadwerkelijke peeling en ten slotte de neutralisatie. Deze 4 stappen worden gekenmerkt door 4 verschillende, synergetische producten. Door laag op laag te werken wordt een krachtige peeling gecreëerd, die qua intensiteit kan worden afgestemd op de persoonlijke huidconditie.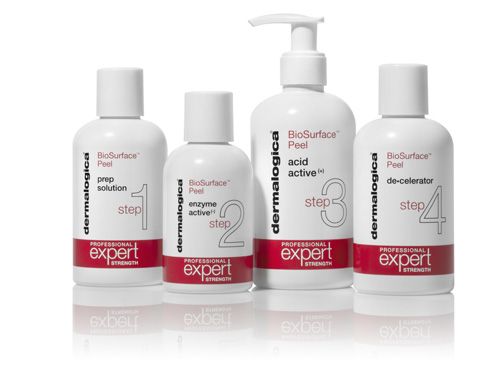 ---
BioSurface™Peel is te koop bij the art of skincare en via de webshop

The art of skincare is Dermalogica Expert
Dermalogica Treatments en tarieven, klik hier…
---
Wilt u een afspraak maken, of een product bestellen?
Bel 035 6024620

of mail