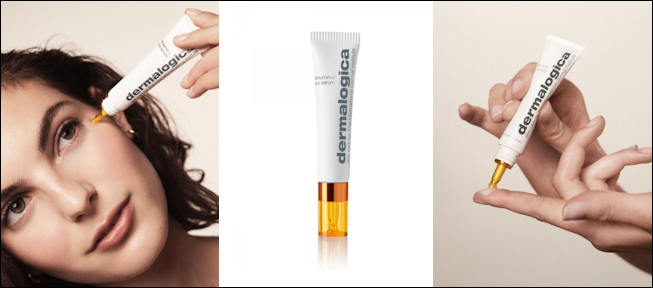 Ultrastabiel vitamine-c oogserum verheldert, verstevigt en hydrateert
Onze ogen hebben behoefte aan een boost en Vitamine C is één van de krachtigste beschikbare antioxidanten, terwijl het ook zacht genoeg is voor het delicate ooggebied. BioLumin-C Eye Serum zet Dermalogica's ultra-stabiele en hoog bio-beschikbare Vitamine-C complex in, in de vorm van een lichtgewicht serum dat geoptimaliseerd is voor de huid rond de ogen. Versterkt door voedende en antioxidant-rijke extracten en hydratanten werkt het serum verhelderend, verstevigend en hydraterend en is het zichtbare tekenen van voortijdige huidveroudering te slim af. Het geeft onze ogen wat ze nodig hebben omdat ze continue bewegen – zelfs als wij stoppen. Samen met Biolumin-C Serum is dit het perfecte vitamine-c serum duo om huidveroudering aan te pakken!
Hoe te gebruiken?
Biolumin-C Eye Serum is een targeted treatment (serum) wat je aanbrengt voordat je een moisturizer en oogcrème aanbrengt. Start met het dubbel reinigen van het gezicht en gebruik daarbij een Dermalogica cleanser die bij jouw huidtype en huidconditie past. Breng vervolgens biolumin-c serum aan op het gezicht (m.u.v. de oogcontouren). Vervolg met biolumin-c eye serum. Een druppel is voldoende voor beide ogen en mag worden gebruikt op het bot onder het oog en op het wenkbrauwbot boven het oog. Het oogserum mag zowel in de ochtend als in de avond worden aangebracht en is niet ontwikkeld voor op de oogleden.
---
---
Biolumin-C Eye Serum is nu te koop bij the art of skincare en via de webshop
The art of skincare is Dermalogica Expert
Dermalogica Treatments en tarieven, klik hier…
---
Wilt u een afspraak maken, of een product bestellen?
Bel 035 6024620

of mail