E

en revo

l

utionaire ve

rmindering van huidveroudering
Hoe komt het dat tekenen van veroudering het eerst te zien zijn rond de ogen?
Onze huid is het dunst rond de ogen. Vrije radicalen breken de collagene en elastine vezels af die de huid glad en strak houden. Talgklieren zorgen ervoor dat op de huid aangebrachte schadelijke stoffen en chemicaliën uit het milieu niet door kunnen dringen. Echter, de huid heeft rond de ogen minder talgklieren.
Voeg daar de jaren van het dichtknijpen van je ogen tegen de zon, laat naar bed gaan, tekort aan slaap en onvoldoende bescherming tegen milieu-invloeden aan toe, dan is het niet zo verwonderlijk dat de huid rond je ogen je leeftijd verraadt.
Dermalogica's Age Reversal Eye Complex is een nieuwe, uiterst effectieve crème met retinol die de veel voorkomende tekenen van huidveroudering herstelt. Daarbij staan rimpels zonder enige twijfel op de eerste plaats. Op de voet gevolgd door donkere kringen en wallen door hyperpigmentatie. Overgevoeligheid door tekort aan vocht kan deze symptomen versterken.
Deze revolutionaire oogcrème draait de tekenen van huidveroudering terug!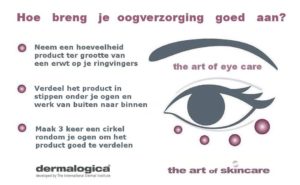 Maak kennis met Age Reversal Eye Complex!
---
Dermalogica's Age Reversal Eye Complex is te koop bij the art of skincare en via de webshop

The art of skincare is Dermalogica Expert
Dermalogica Treatments en tarieven, klik hier…
---
Wilt u een afspraak maken, of een product bestellen?
Bel 035 6024620

of mail