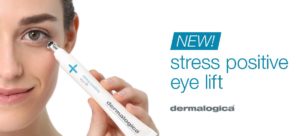 4-in-een verkoelend oogmasker

---
Verlies stress uit het oog en verhelder vermoeide ogen met Dermalogica's nieuwe Stress Positive Eye Lift. Dit intensieve "leave on" oogmasker vermindert zwelling, donkere kringen en heeft een liftend effect op de ogen. Daarnaast heeft dit masker barrière herstellende eigenschappen zodat de huid rondom je ogen gezond wordt en blijft. De handige, verkoelende massage applicator revitaliseert de ogen en zorgt ervoor dat precies de juiste hoeveelheid product gebruikt kan worden.
De handige, verkoelende massage applicator zorgt ervoor dat het masker gedoseerd aangebracht kan worden. Mag zowel onder het oog als op het bewegende ooglid aangebracht worden.
---
---
Stress Positive Eye Lift is te koop bij the art of skincare en via de webshop

The art of skincare is Dermalogica Expert
Dermalogica Treatments en tarieven, klik hier…
---
Wilt u een afspraak maken, of een product bestellen?
Bel 035 6024620

of mail